Melamine Cyanurate (MCA) Halogen-free Flame Retardant
Product Detail
Product Tags
Melamine cyanurate ( MCA ) is a kind of white power. It has excellent electricity performance, especially adaptable to electric equipment and Electronic Industrie Non-toxic and environmental protection.
Melamine Cyanurate is a halogen-free flame retardant that can be used in thermoplastic urethanes (TPUs) for electrical wire coatings. MCA especially applies to nylon number 6 and number 66, which can achieve the anti-flaming effect with UL 94 V level easily; It's worthwhile to point out that it has such advantages as very low application cost, super electrical capacity, mechanical performance, and excellent pigmentation effect, etc.
Items

Index

Appearance

White crystal powder

Content (%)

99.5 MIN

Moisture (%)

0.2 MAX

pH (10 g/L)

6.0 - 7.0

Whiteness (F457)

95 MIN

Melamine (%)

0.001 MAX

Cyanuric Acid (%)

0.2 MAX

D50

3 μm MAX




3.5 - 4 μm




Size can be adjust as per clients' need.

Packing:

600 kg big bags , 2 bags per pallet

20kg plastic bag with pallet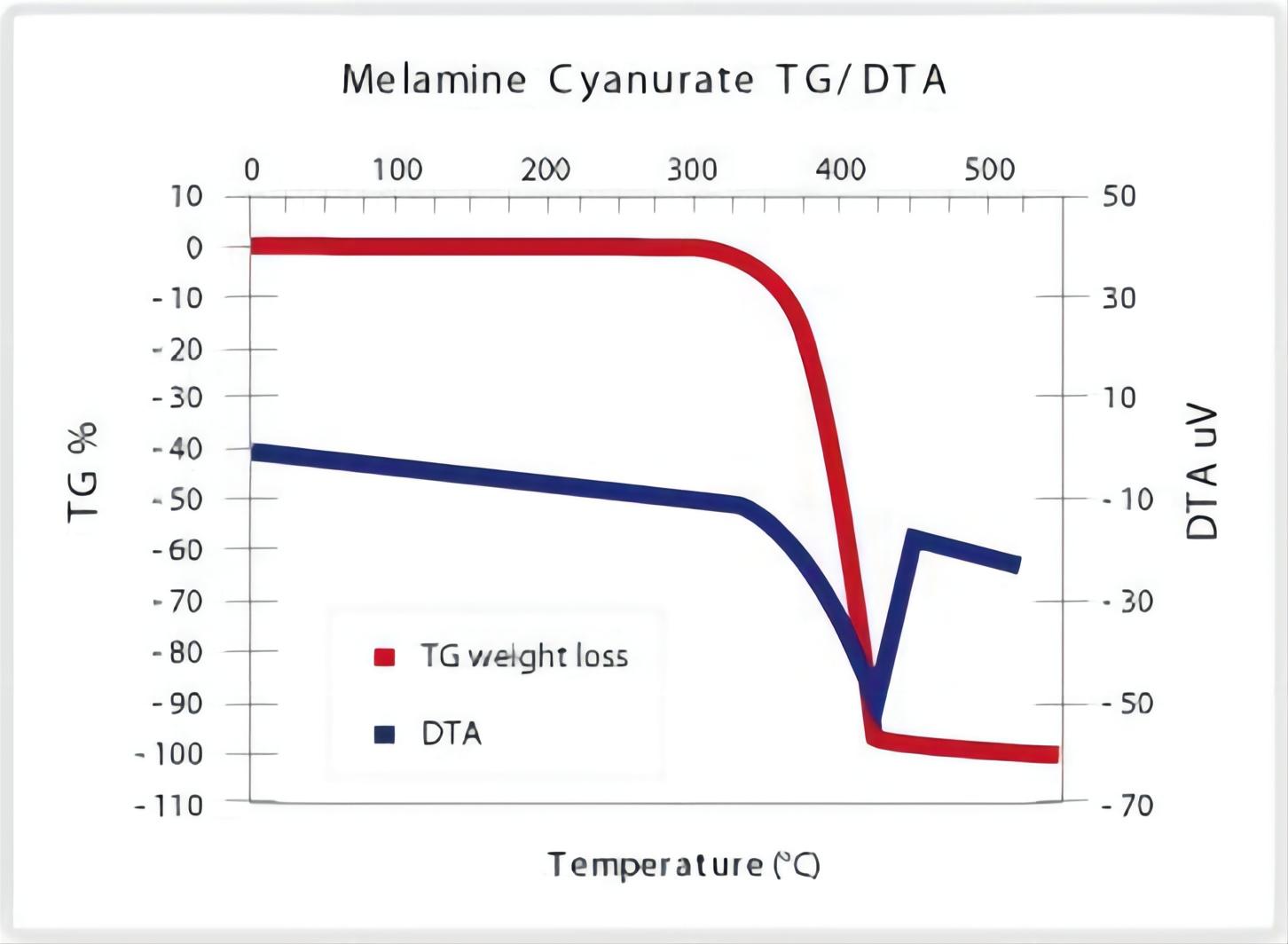 1. Halogen-free, low smoke density, low toxicity, and less corrosion.
2. High sublimation temperature (440°C) with high thermal resistance and thermal processing stability.
3. Good economics and mechanical properties, compared to compounds containing halogen/antimony flame retardant systems
4. Lower corrosion offers advantages in the processing stage or fire hazard.
5. UL94V-0 rating for unfilled or mineral filled compounds.
6. UL94V-2 rating for glass filled compounds.
1. primarily used for nylon.
2. Primarily for electrical & electronic applications (connectors, switches, etc.) made from polyamide or thermoplastic polyurethane.
3. Suitable for synthetic resins (i.e. PA, PVC, PS).
20 kg per multi-ply paper bag (10-11 MTs per 20 foot container or 20-22 MTs per 40 foot container).
25 kg per composite woven bag with inner PE lining.
600 kg per jumbo bag available upon request.
Properties of Melamine Cyanurate
Melamine Cyanurate is a salt comprised of Melamine and Cyanuric acid, which has unique physical properties: heat stability at 300º.
Held together by an extensive two-dimensional network of hydrogen bonds between Melamine and Cyanuric acid, which network forms layers such as graphite.
---
---
Write your message here and send it to us